One of our events for our younger audiences.
Location: Holmpatrick National School, Convent Lane, Skerries
Date and Time: Sat 17 September 2022, 11 am – 12 noon
Languages: Bilingual: Irish / English. Participating children should have some Irish.
Tickets (on Eventbrite or at the door): Free, but limited capacity.
Children can attend on their own, but parents are invited to join them at the end.
Secure your tickets now on Eventbrite (booking fees apply except for free events),
or come early – there will be tickets available on the day.
Online booking ends 24 hours before the event starts.
💥 Go to our full programme here💥
At this stimulating, fun workshop for 10-12 yr olds with Áine Ní Ghlinn, the Children's Laureate, Irish language story and poetry is used to inspire creativity.
This will be followed by a short bilingual presentation for parents on the scope of books available to enrich their children's Irish.
Location: Holmpatrick National School, Convent Lane, Skerries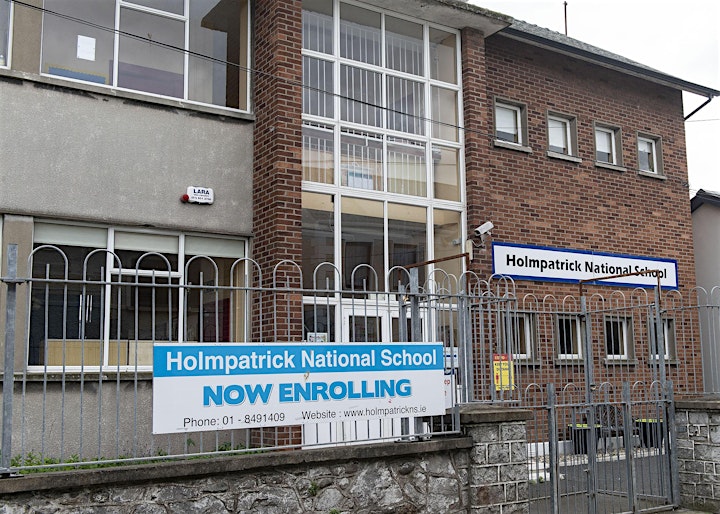 Áine Ní Ghlinn
File agus scríbhneoir do dhaoine óga í Áine Ní Ghlinn, agus Laureate na nÓg 2020 – 2023.
Tá 35 leabhar foilsithe aici, idir fhilíocht dhrámaí, úrscéalta agus scéalta do dhaoine óga. I measc na nduaiseanna atá buaite aici, tá Gradam Reics Carló Leabhar na Bliana (2014, 2016, 2019 do na húrscéalta Daideo, Hata Zú Mhamó & Boscadán), Gradam Ficsin, Leabhair Pháistí Éireann & Gradam Leabhar na Bliana, Cumann Litearthachta na hÉireann (Daideo, 2015). Bronnadh Comhaltacht Patrick Kavanagh uirthi 2019 agus tá go leor duaiseanna filíochta buaite aici ag Seachtain na Scríbhneoirí Lios Tuathail, Féile Filíochta Bhéal na mBuillí agus Oireachtas na Gaeilge.
Ina ról mar Laureate na nÓg, an tionscnamh Laureate a roghnaigh sí ná Bosca Leabharlainne (ina mbeadh 25 leabhar Gaeilge) a bhronnadh ar scoileanna. Le maoiniú ó Fhoras na Gaeilge agus ón gComhairle Ealaíon, bronnadh an Bosca Leabharlainne seo ar gach scoil a chuir iarratas isteach agus seoladh 2,200 Bosca Leabharlainne amach chuig scoileanna ar fud an oileáin i Feabhra/Márta 2022. Bronnadh scéimeanna cónaithe ar 21 scoil agus bronnadh breis leabhar ar na scoileanna a ghlac páirt sna scéimeanna seo.
Áine Ní Ghlinn is the sixth Laureate na nÓg (Ireland's Children's Literature Laureate). She is the first author writing exclusively in the Irish language to be appointed to the role. Áine has published thirty-five books, including poetry, drama, fiction, and stories for children. She has been awarded Gradam Reics Carló [Book of the Year] (2014, 2016, 2019 – for the novels Daideo, Hata Zú Mhamó & Boscadán), Children's Books Ireland Fiction Award and Literacy Association Book of the Year Award (Daideo, 2015). She has won many poetry prizes including at Listowel Writers Week, Strokestown Poetry Festival and Oireachtas na Gaeilge. In 2019 she was awarded the Patrick Kavanagh fellowship for poetry.Áine's ambition as Laureate is to lift the cloak of invisibility from Irish language authors and books, encouraging children and young people to read for pleasure as Gaeilge. To that end her main project is An Bosca Leabharlainne, a selection of 25 high quality Irish language books, selected by Áine, that were sent to schools around the country. In total 2,200 boscaí leabharlainne were distributed, thanks to funding from Foras na Gaeilge and the Arts Council. 21 schools also received an Artist in Residence scheme which included additional book gifts.
Secure your tickets now on Eventbrite (booking fees apply except for free events),
or come early – there will be tickets available on the day.
Online booking ends 24 hours before the event starts.
💥 Go to our full programme here💥